World Cup
Jabeur calls 2022 World Cup 'cleanest ever' and feels criticism of Qatar was 'unjust and unfair'
Calls Qatar World Cup 'cleanest ever'
Feels criticism was unfair
Hails Qatar's compact World Cup
WHAT HAPPENED? The Tunisian tennis superstar hit out at the critics of the Qatar World Cup as she believes that the criticisms were undue. She opined that no country is perfect and one should respect the culture of the Arab nation.
WHAT THEY SAID: "I think it was unjust, to be honest with you. There is in every country you can find something is not right, and for some reason, Qatar now is organizing the World Cup, and everybody was criticizing it," Jabeur told reporters.
"It's just like if you go to any country, you respect their culture, right? For me it was just you go there, you respect the rules and everything, and I feel like it was the cleanest World Cup ever. There was no stealing; there was no crime; there was nothing there that happened," said the Tunisian.
THE BIGGER PICTURE: The World Cup in Qatar was hosted in eight stadiums and all of these venues are within a 70km radius of Qatar's capital city of Doha. All the stadiums were located within an hour's travel which eliminated the need to take a flight to travel from one venue to another. Jabeur has hailed this feature of the World Cup which has allowed fans to watch multiple games in a single day. "For me, I don't think they will have a nicer World Cup because you can watch four matches in a day, which is impossible in other World Cups. It's just time to maybe let other countries shine, and I think Qatar had a great organization in the World Cup," Jabeur added.
IN THREE PHOTOS: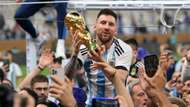 WHAT NEXT? The next edition of the FIFA World Cup will be jointly hosted by the United States, Canada and Mexico.