Cristiano Ronaldo
'Ronaldo was ticking time bomb ready to explode' – Man Utd exit was inevitable, says 1999 Treble winner Yorke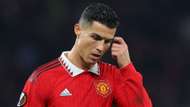 Portuguese released as a free agent
Contract terminated in December
Upset with treatment at Old Trafford
WHAT HAPPENED? The Portuguese superstar was released from a lucrative contract at Old Trafford in December, allowing him to become a free agent and agree an even bigger deal at Saudi Arabian outfit Al-Nassr. Ronaldo forced his way through the exits after giving an explosive interview in which he criticised prominent figures from United's past and present, with Yorke admitting that such a situation was always likely to happen as the five-time Ballon d'Or winner was unhappy at how he had been treated by Erik ten Hag.
WHAT THEY SAID: Yorke, a 1999 Treble winner with United in his playing days, has told The National of Ronaldo: "I had a one-to-one conversation with him before I came to Australia, when I went on a 10-day observation at Manchester United and had access behind the scenes. I was lucky that Ronaldo gave me 30 minutes of his time and we talked in depth. I knew that there was an individual there that wasn't happy with whatever was going on at the club. He expressed that in a very open and honest way to me. He was clearly unhappy. He felt that the club wasn't progressing the way he wanted it to and he demanded certain things from the incoming manager. I felt that if that wasn't to happen, then there was going to be something that we eventually saw happen. So when all of that came out, I knew it was already a ticking time bomb just ready to explode."
THE BIGGER PICTURE: Yorke added on Ronaldo's decision to force United's hand as they were left with little choice but to terminate a deal that had been agreed in the summer of 2021: "I know that there was someone who is really passionate and really loves Manchester United, and wanted to take Manchester United back to the top. But he clearly felt that the only way he could help the club get anywhere near that, I think he needed to be the leader.
"And I think, with Harry Maguire not being fully in the fold, I felt that Ronaldo didn't think that was the right call; that he felt he should have led. Being the top scorer, he felt he didn't get enough respect, because without him last year, United would have been nowhere near. I think he feels he doesn't get enough credit, that there's a lot of criticism coming his way; the way he went about things with the Piers Morgan interview and speaking openly about it. But I think he got to the point where he had enough. He saw that the club was not heading in the direction he wanted it to. He wanted to lead and wasn't given that opportunity, so it just boiled over."
IN THREE PHOTOS:
WHAT NEXT? Ronaldo registered 27 goals in 54 appearances during his second spell at Old Trafford, but the legendary 37-year-old frontman is now readying himself for a new challenge in the Middle East as he waits for clearance to make his Al-Nassr debut after serving a two-game suspension.