PSG
PSG could buy Stade de France after Paris Mayor blocks Parc de Princes sale
PSG eyeing Stade de France
Denied chance to buy Parc des Princes
Paris mayor blocked sale of stadium
WHAT HAPPENED? Following the news that Anne Hidalgo, mayor of Paris, would refuse to sell the Parc des Princes to PSG, the club has decided to explore alternative options in the form of leaving the stadium and have identified the Stade de France as a potential new home ground, report The Telegraph.
THE BIGGER PICTURE: Les Parisiens have always played their home games at the Parc des Princes but never owned the stadium - which instead belongs to the city of Paris. The club's owners have spent significant sums of money renovating the arena, but after suddenly being told they would not be able to purchase it, the report states they are now seriously considering buying the 81,000 capacity Stade de France - home of the French national team.
AND WHAT'S MORE: The Stade de France, located just north of Paris in Saint-Denis, is government-owned and up for sale. PSG are 'desperate' for a new stadium in order to maximise their revenues, and would consider developing the Hippodrome close by to the Parc des Princes as an alternative to their lofty Stade de France ambition. Failing that, they could even look to move outside of the city.
IN THREE PHOTOS: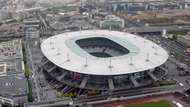 WHAT NEXT FOR PSG? While the squabbling continues over where their future home might be, Christophe Galtier's side are in Riyadh, Saudi Arabia, preparing for a friendly against an All-Star XI including Cristiano Ronaldo.