L. Messi
'It could be today' - The words Messi uttered to himself seconds before Argentina's World Cup winning penalty revealed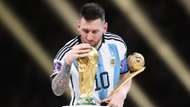 Messi won World Cup with Argentina
Beat France in a penalty shootout
Messi caught looking up to the sky
WHAT HAPPENED? Messi bagged his first global crown with Argentina on his fifth attempt after La Albiceleste beat France via penalties in the Qatar final. He converted his attempt from 12 yards in the shootout and just before Gonzalo Montiel was about to take Argentina's fifth spot kick, he looked up to the sky and said a small prayer to his late grandmother, Celia Olivera Cuccittini, who played an important role in his childhood before her death in 1998.
WHAT THEY SAID: Messi whispered "Puede ser hoy, abu" - which translates to "It could be today, Grandma" before Montiel converted his penalty to clinch Argentina's third World Cup crown.
@jonatanrajoy19

Emocionante y poético relato inglés (subtitulado) del periodista Peter Drury del último penal de Montiel para que Argentina sea campeón del mundo, y sobre el final dedicándole unas palabras a Leo Messi! 👏👏👏 #TodosJuntos ⭐⭐⭐ 🇦🇷 . . #qatar2022 #argentina #seleccionargentina #scaloneta #campeonesdelmundo #messi #leomessi #maradona #worldcup #montiel #scaloni #rosario

♬ sonido original - Jonatan Rajoy
THE BIGGER PICTURE: Messi often celebrates after scoring by raising his arms and looking towards the sky to remember his grandmother. It was Celia who pursued a local coach to allow Messi to play against older kids in his youth, despite his short stature.
IN THREE PHOTOS: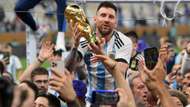 WHAT NEXT FOR MESSI? Messi is set to return to club action with Paris Saint-Germain in a friendly encounter against Riyadh XI - captained by his old rival Cristiano Ronaldo - later this week.
@goalglobal

lionel messi spoke to his late grandmother as gonzalo montiel stepped up for argentina's winning penalty 💙 #football #lionelmessi #worldcup #messi #soccer #futbol #fyp

♬ Ambient-style emotional piano - MoppySound