L. Messi
Messi back but no Mbappe! PSG without one of their World Cup heroes for Angers clash
Messi likely to start Wednesday
Mbappe still not in training
Galtier denies rift between the players
WHAT HAPPENED? Messi took an extended break after winning the World Cup with Argentina, but having been back in training for nearly a week is in the squad for Wednesday night. Mbappe, meanwhile, is taking a break of his own. The Frenchman, who was part of the team that lost to Messi's Argentina in the World Cup final, returned to PSG training early, but has since been granted some time away from the PSG squad. There is no word as to when Mbappe will officially rejoin the rest of his teammates.
THE BIGGER PICTURE: There have been rumblings of a rift between the two stars since the World Cup ended, especially after the Argentina squad publicly made fun of Mbappe following their final win. And although neither player has suggested there's any bad blood, the two are yet to line up together.
WHAT THEY SAID?: Galtier denied there was any rift between his two star players on December 27th: "There is no reason to mix everything up in the relationship between Kylian and Leo [Messi]. Kylian has a very good attitude having lost the World Cup."
IN TWO PHOTOS: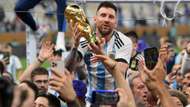 WHAT NEXT FOR MESSI AND MBAPPE? Messi will likely be in the XI for PSG as they face Angers Wednesday evening. Exactly when they will play together again remains to be seen.