L. Messi
Messi World Cup win saw Rijkaard 'cheer like a puppy' as ex-Barcelona boss revelled in Argentine's delight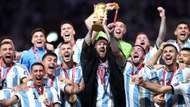 Albiceleste prevailed at Qatar 2022
All-time great captained them to glory
Has now completed his medal collection
WHAT HAPPENED? The Albiceleste dashed the dreams of Rijkaard's native Netherlands en route to savouring glory in Qatar, with a dramatic quarter-final penalty shootout victory. No grudges were held against the South Americans by Rijkaard, with the Dutchman taking great delight in seeing Messi – a man he helped to put on a path towards seven Ballons d'Or and sporting immortality – get his hands on the most prestigious of prizes.
WHAT THEY SAID: Rijkaard, who managed Barca between 2003 and 2008, has told Helden Magazine of his emotions when Messi became a world champion: "It's not like tears rolled down my cheeks after the World Cup final, but I cheered like a puppy because Messi had done it. I was watching the final between Argentina and France, mainly as a Messi fan. I think he got what he wanted. He deserved [it]."
THE BIGGER PICTURE: Messi made his competitive debut for Barcelona in October 2004 at the age of 17 and won two La Liga titles and a Champions League crown while working under the tutelage of Rijkaard.
IN THREE PHOTOS: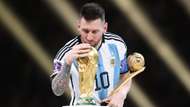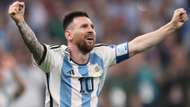 WHAT NEXT? Messi's triumph at the 2022 World Cup is considered by many to have cemented his standing as the greatest player of all time, with there seemingly nothing left for the mercurial 35-year-old to achieve as he mulls over a contract extension at Paris Saint-Germain and an extended international career with Argentina.